Basketball Stars of America AAU will be hosting 8 Basketball Tournaments and 16 One Day Shootouts during Fall 2020 in the Pittsburgh, PA Area. All BSA Tournaments & Shootouts are held at top Pittsburgh, PA Area Locations with State Certified Refs, Electronic Clocks, Stopped Time Games and Great Competition. Over 5000 Teams have taken part in BSA Tournaments and Shootouts over the past 2 Years!
Registration for 2020 Fall Basketball Tournaments:
Register by Phone at 412-400-1320


To Register by mail, use this Printable Registration Form

Basketball Stars of America offers Multi-Team & Multi-Tourney Discounts. Call 412-400-1320 for details!
2020 Basketball Stars of America Fall Basketball Tournaments:
Adidas Pittsburgh Fall Tip Off Basketball Tournament
Dates: Saturday & Sunday, September 12th & 13th
Teams: Boys & Girls Teams ages 8U through 17U – 2nd through 12th Grade (AAU, School & Travel Teams Invited)
All Games will be Live Streamed by BallerTV
College Coaches in attendance
Cost: $350 per team (3 Game Minimum Plus Championship Play)
Host Site: Monroeville Sports Center in Monroeville, PA
Host Hotels: Pittsburgh East Hotels
Pittsburgh Fall Slam Fest Basketball Tournament
Dates: Saturday & Sunday, September 19th & 20th
Teams: Boys & Girls Teams ages 8U through 17U – 2nd through 12th Grade (AAU, School & Travel Teams Invited)
All Games will be Live Streamed by BallerTV
College Coaches in attendance
Cost: $350 per team (3 Game Minimum Plus Championship Play)
Host Site: Printscape Arena in Canonsburg, PA
Host Hotels: Pittsburgh South Hills Hotels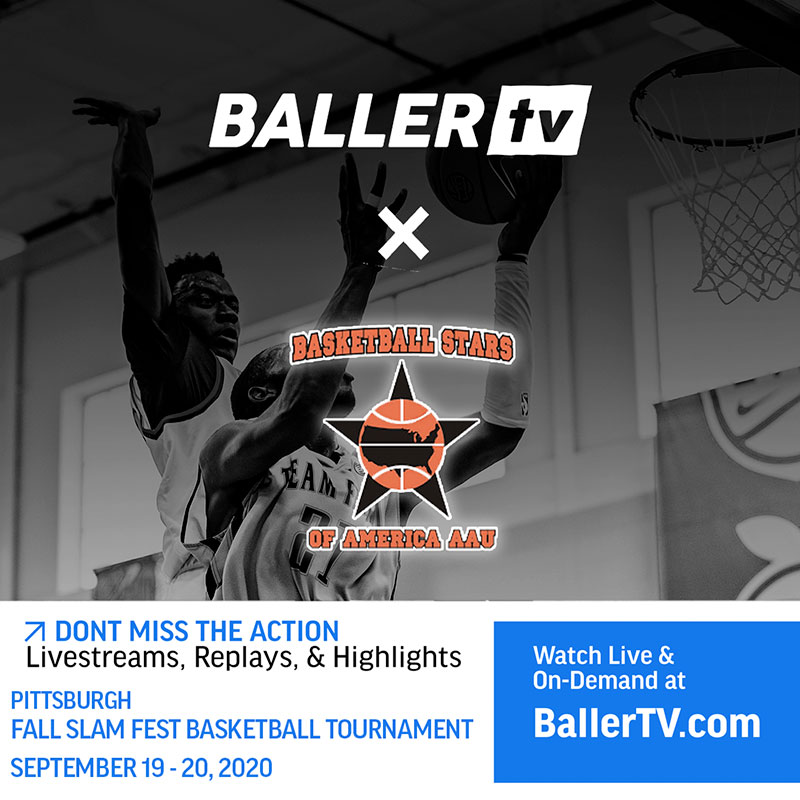 Pittsburgh Fall Classic Basketball Tournament
Dates: Saturday & Sunday, September 26th & 27th
Teams: Boys & Girls Teams ages 8U through 17U – 2nd through 12th Grade (AAU, School & Travel Teams Invited)
All Games will be Live Streamed by BallerTV
College Coaches in attendance
Cost: $350 per team (3 Game Minimum Plus Championship Play)
Host Site: Printscape Arena in Canonsburg, PA
Host Hotels: Pittsburgh South Hills Hotels

Adidas Pittsburgh Fall Battle of The Burg Basketball Tournament
Dates: Saturday & Sunday, October 3rd & 4th
Teams: Boys & Girls Teams ages 8U through 17U – 2nd through 12th Grade (AAU, School & Travel Teams Invited)
All Games will be Live Streamed by BallerTV
College Coaches in attendance
Cost: $350 per team (3 Game Minimum Plus Championship Play)
Host Site: Printscape Arena in Canonsburg, PA
Host Hotels: Pittsburgh South Hills Hotels

Pittsburgh Fall Invitational Basketball Tournament
Dates: Saturday & Sunday, October 10th & 11th
Teams: Boys & Girls Teams ages 8U through 17U – 2nd through 12th Grade (AAU, School & Travel Teams Invited)
All Games will be Live Streamed by BallerTV
College Coaches in attendance
Cost: $350 per team (3 Game Minimum Plus Championship Play)
Host Site: Printscape Arena in Canonsburg, PA
Host Hotels: Pittsburgh South Hills Hotels
Adidas Pittsburgh Fall Hoop Fest Basketball Tournament
Dates: Saturday & Sunday, October 17th & 18th
Teams: Boys & Girls Teams ages 8U through 17U – 2nd through 12th Grade (AAU, School & Travel Teams Invited)
All Games will be Live Streamed by BallerTV
College Coaches in attendance
Cost: $350 per team (3 Game Minimum Plus Championship Play)
Host Site: Printscape Arena in Canonsburg, PA
Host Hotels: Pittsburgh South Hills Hotels

Pittsburgh Fall Challenge Basketball Tournament
Dates: Saturday & Sunday, October 24th & 25th
Teams: Boys & Girls Teams ages 8U through 17U – 2nd through 12th Grade (AAU, School & Travel Teams Invited)
All Games will be Live Streamed by BallerTV
College Coaches in attendance
Cost: $350 per team (3 Game Minimum Plus Championship Play)
Host Site: Monroeville Sports Center in Monroeville, PA
Host Hotels: Pittsburgh East Hotels
Pittsburgh Fall Wrap Up Basketball Tournament
Dates: Saturday & Sunday, November 7th & 8th
Teams: Boys & Girls Teams ages 8U through 17U – 2nd through 12th Grade (AAU, School & Travel Teams Invited)
All Games will be Live Streamed by BallerTV
College Coaches in attendance
Cost: $350 per team (3 Game Minimum Plus Championship Play)
Host Site: Monroeville Sports Center in Monroeville, PA
Host Hotels: Pittsburgh East Hotels
2020 Pittsburgh Fall 1 Day Shootout Information:
Teams Eligible to Participate: Boys & Girls Teams ages 8U through 17U – 2nd through 12th Grade (AAU, School & Travel Teams Invited)

Cost: $200 for 2 Games, $300 for 3 Games for each 1 Day Shootout

Locations: Top Pittsburgh Area Locations

Notes: Teams will play all their games on the same day in the same location. There are No Championship games in Shootouts, only in Tournaments!
2020 Fall 1 Day Shootout Dates:
Pittsburgh Fall 1 Day Shootout #1: Saturday, September 12th
Pittsburgh Fall 1 Day Shootout #2: Sunday, September 13th
Pittsburgh Fall 1 Day Shootout #3: Saturday, September 19th
Pittsburgh Fall 1 Day Shootout #4: Sunday, September 20th
Pittsburgh Fall 1 Day Shootout #5: Saturday, September 26th
Pittsburgh Fall 1 Day Shootout #6: Sunday, September 27th
Pittsburgh Fall 1 Day Shootout #7: Saturday, October 3rd
Pittsburgh Fall 1 Day Shootout #8: Sunday, October 4th
Pittsburgh Fall 1 Day Shootout #9: Saturday, October 10th
Pittsburgh Fall 1 Day Shootout #10: Sunday, October 11th
Pittsburgh Fall 1 Day Shootout #11: Saturday, October 17th
Pittsburgh Fall 1 Day Shootout #12: Sunday, October 18th
Pittsburgh Fall 1 Day Shootout #13: Saturday, October 24th
Pittsburgh Fall 1 Day Shootout #14: Sunday, October 25th
Pittsburgh Fall 1 Day Shootout #15: Saturday, November 7th
Pittsburgh Fall 1 Day Shootout #16: Sunday, November 8th
Register by Phone at 412-400-1320


To Register by mail, use this Printable Registration Form