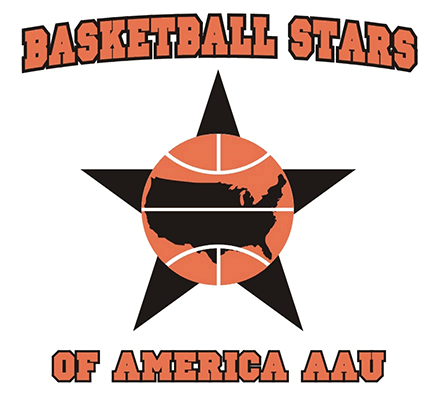 The Official Elite AAU Basketball Program of Western Pennsylvania
Ranked by National AAU as 1 of the Top 20 AAU Basketball Programs in the Country!
Featuring Boys Teams ages 8 to 18 & Girls Teams ages 8 to 18 as well as In House Programs and In House and Skills Programs for Players in Kindergarten Through High School!
Register Online Printable Form
Register by Phone: 412-400-1320
2018 Spring Program Info:
For 2018 Summer AAU Program/Evaluation Information: Go to: www.basketballstarsofamerica.com/bsa-summer-program-info
2018 Spring AAU Tryout Fee: $50 per Player. Tryout Fee includes a Free BSA T-Shirt and as many Tryout Sessions as a Player can attend.
2018 Spring In House Program Registration Fee: $350 per Player. If a player tries out then is assigned to or chooses to do In House, they may subtract the Tryout Fee paid from this price! In House Program includes Professional Coaching, BSA Uniform & Shooting Shirt, 1 Weeknight Skills practice per week from March through May at your choice of Practice Location (Wexford, Bethel Park, Canonsburg & Monroeville – See Below for Practice Days & Times) and Sunday Evening In House Games. Note that all Practices will be held at chosen practice site, while Sunday games will rotate between sites. This is a great program for players of all levels and is Open to Boys & Girls in Kindergarten through 12th grade (Players are split up in leagues by grade & gender).
2018 Spring Weeknight Basketball Skills Program Registration Fee: $225 Per Player. These weeknight programs run April through May at each of our Practice Locations (Wexford, Bethel Park, Canonsburg & Monroeville) and feature Complete Basketball Skills Training led by Professional Coaches. There will be 7 Sessions at each location! See below for Locations & Times.
2018 Spring Weeknight Skills Programs:
Sports & Courts North in Wexford: Thursdays 6 pm to 7:30 pm – April 5th to May 17th
Hillcrest Christian Academy in Bethel Park: Tuesdays 6 pm to 7:30 pm – April 3rd to May 15th
The Armory in Canonsburg: Mondays 6 pm to 7:30 pm – April 2nd to May 14th
Monroeville Pro Sports Center in Monroeville: Wednesdays 5:30 pm to 7 pm – April 4th to May 16th
2018 Spring AAU Program
Tuition (After Tryout Fee):
8th Grade & Below: $625
9th Grade & Above: $675
AAU Program Tuition includes Professional Coaching, 1-2 Practice per week March through May, 8-9 Weekend Tournaments/Shootouts, plus a New Full Uniform including Jerseys, Shorts and Shooting Shirt.
*2018 AAU Loyalty Special: Returning AAU Players that Pre-Pay 2018 Tuition Fee & Tryout Fee get $25 off the total price! This is only for Returning BSA AAU Players. Players must still attend a tryout to be placed on correct team!
2018 Spring AAU Tryouts Schedule:
*Note: Players Must Pre-Register Online or By Phone at 412-400-1320 prior to attending a Make Up Tryout!
BSA Pittsburgh North Hills AAU Tryouts at Sports & Courts, 304 Warrendale Road in Wexford, PA 15090:
Tuesdays, April 3rd, 10th, 17th & 24th:
7 pm to 8:15 pm (Changes to 6 pm to 7:30 pm on April 10th): Special AAU Make Up Tryouts for Girls in 7th to 12th Grade
8:15 pm to 9:30 pm (Changes to 7:30 pm to 9 pm on April 10th): Special AAU Make Up Tryouts for Boys in 8th top 12th Grade.

Thursdays, April 5th, 12th, 19th & 26th:
6 pm to 7:30 pm – AAU Make Up Tryouts for Boys & Girls in 1st to 12th Grade
6 pm to 7:30 pm – BSA Spring Weeknight Skills Sessions - $35/Session or $225 for 7 Weekly Sessions
7:30 pm to 8:30 pm – Special AAU Make Up Tryouts for Boys in 3rd to 7th Grade & Girls in 3rd to 7th Grade
8:30 pm to 9:30 pm – Special AAU Make Up Tryouts for Boys in 7th & 8th Grade
BSA Pittsburgh South Hills AAU Tryouts at Hillcrest Christian Academy, 2500 Bethel Church Road in Bethel Park, PA 15102:

Tuesdays, April 3rd, 10th, 17th & 24th:
6 pm to 7:30 pm – AAU Make Up Tryouts for Boys & Girls in 1st to 12th Grade
6 pm to 7:30 pm – BSA Spring Weeknight Skills Sessions - $35/Session or $225 for 7 Weekly Sessions
7:30 pm to 9 pm – Special AAU Make Up Tryouts for Girls in 7th to 12th Grade
Thursdays, April 5th, 12th, 19th & 26th:
6 pm to 7:30 pm – Special AAU Make Up Tryouts for Boys in 7th & 8th Grade
7:30 pm to 9 pm – Special AAU Make Up Tryouts for Boys in 9th to 12th Grade
BSA Pittsburgh South Hills AAU Tryouts at The Armory in Canonsburg, 16 W. College Ave in Canonsburg, PA 15317:
Mondays, April 2nd, 9th, 16th & 23rd:
6 pm to 7:30 pm – AAU Make Up Tryouts for Boys & Girls in 1st to 12th Grade
6 pm to 7:30 pm – BSA Spring Weeknight Skills Sessions - $35/Session or $225 for 7 Weekly Sessions
7:30 pm to 8:30 pm – Special AAU Make Up Tryouts for Boys in 3rd to 6th Grade
8:30 pm to 9:30 pm – Special AAU Make Up Tryouts for Girls in 7th & 8th Grade
Wednesdays, April 4th, 11th, 18th & 25th:
7:15 pm to 8:45 pm – Special AAU Make Up Tryouts for Girls in 3rd to 7th Grade
Thursdays, April 5th, 12th, 19th & 26th:
7:30 pm to 9 pm – Special AAU Make Up Tryouts for Boys in 6th to 8th Grade
BSA Pittsburgh East AAU Tryouts at Monroeville Pro Sports Center, 855 MacBeth Drive in Monroeville, PA 15146:
Wednesdays, April 4th, 11th, 18th & 25th:
5 pm to 6 pm – AAU Make Up Tryouts for Boys in 1st to 4th Grade
5:30 pm to 7 pm – AAU Make Up Tryouts for Boys in 5th to 12th Grade & Girls in 1st to 12th Grade
5:30 pm to 7 pm – BSA Spring Weeknight Skills Sessions - $35/Session or $225 for 7 Weekly Sessions
7 pm to 8 pm – Special AAU Make Up Tryouts for Boys in 7th to 9th Grade
8 pm to 9 pm – Special AAU Make Up Tryouts for Boys in 9th to 12th Grade